Dear Friday... So glad to see you!
Dear Shoulder... Why are you hurting me so much? I didn't do any activity to warrant an injury. I don't think I slept weird. Whyyyyy??
Dear Job... Still not feeling you right now. Thankfully I can zombie through it since I have been doing it so

(so, so, so)

long.
Dear Ex-pat Blogger Girls... I wish I lived in Europe. I wish I had been with you in Italy last week for Meg's "hen-do". I wish I had ever been to Italy... *sigh*
Dear MLB... It's October baseball time! Since my beloved Dodgers didn't make it, I'm rooting for Team Underdog. (The As, Orioles, Nationals, and/or Braves)
Dear Studio Diner... I love having breakfast for dinner with you most Thursday nights. Please never change.
Dear BF... Another weekend with no real plans. What should we do? The possibilities are endless. :-)

BBQ Sunday, though, for sure!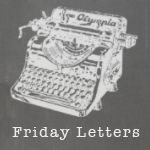 And now... for today's Fancy! AV was inspired this week by a trip to Paris.
The topic was Monotone and

(surprise, surprise!)

I went with green... I created this one my little old self, on Polyvore. While I have plenty of green outfits Pinned, none of them really gave me the monotone vibe I was looking for this week. I have a sweater very similar to this. I would love to own the rest of it, the bracelets in particular.
If you like creating outfits and/or seeing other people display their creativity and style, hop over to Long Distance Loving and link up with AV.
It's always fun to daydream. :-)