I'm feeling

a

big, huge TGIF for today.
Quick question, if anyone has an opinion...
Kindle Fire or tablet

(samsung or similar)

?
Anyone have both or already shopped both and made an informed decision?
*******************************
Jumping into my letters quickly because I had my post almost done last night and my laptop crashed...so, trying to get it done real quick this morning. :-)
Dear Mom - Can't wait to see you tonight!

It's been kind of strange with you gone in Yellowstone all summer but we've got 2 solid days of eating and baseball watching coming up.
Dear BF - Thanks for getting my birthday tires this weekend, yay!

(Not a sarcastic yay, tires are a great gift when you are old like me. haha)

And... I love you.
Dear Mortgage Company - You are very frustrating and stressful. I do not like you. At all.
Dear Readers and Followers - Hi guys! And welcome to the new people! Thanks for coming along! Been a busy week for me but next week I've got plans for some new posts and fun stuff going on. Stay tuned!! :-)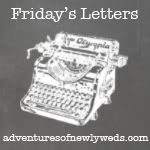 Today is a big celebration over at Long Distance Loving... Friday's Fancies #100!!


In honor of that I put together a party outfit that I'd love to wear for a holiday party, or New Years... Very fun and fancy and sparkly! I love the pink champagne color and, even though they'd kill my feet, the SHOES!