I know many of us would agree that it might be a bit soon to start discussing anything even remotely Christmas/holiday related.
(Am I right??)
BUT...it takes time to organize a good thing so the smart ones get started early.
Smart ones, like
Janna
!!
(and her co hosts Kelly and Tabitha)
These ladies recently announced a gift swap they are putting together. Sounds fun to me! I am really trying to make an effort to be more social in the blogging community, so this should be a great way to jump in. Jenna's post said they are going to do this Secret Santa style, so it will be fun secretly stalking whoever I am chosen to give to. :-) There is a very reasonable price limit, so the point is really just to get to know other bloggers and get a nice little surprise in the mail. You can click on the button below if you are interested in signing up.
Two other smart girls (
Erin
and
Jessah
) are planning an ornament swap.
I love this because
I love Christmas trees
! I love coming home during the holiday season and plugging in the lights. We've always collected one or two new ornaments each year that we have been dating, so it will be fun to get a surprise ornament from someone far away (or maybe nearby! who knows...!) to add to our tree.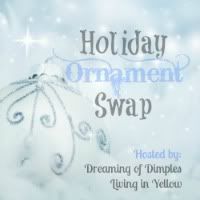 I give all of these ladies props for being in charge of all the logistics of this kind of thing! I've signed up for both and am already looking forward to shopping for my "swap buddies" and seeing what might arrive in my mailbox!

Thanks to all of these smart and plan-ahead kind of girls,
I am going to be all set (EARLY!) for Christmas.


Now if I can just think of something to do for Halloween....
Since I am super UN-creative, I am thinking something like these pumpkins below.
I can, at least, poke holes in things!! :-)