I am very glad it's here, as always.
It's supposed to be a hot weekend here in San Diego,
so hopefully we'll come up with something to do outside in the sunshine. :-)
I'm linking up with Ashley and AV again on this lovely Friday...
(aren't all Fridays lovely?)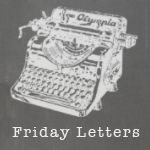 Dear Weather
: It's chilly tonight but apparently not for long. Please be warm
(as predicted)
and not HOT
(as October can sometimes be)
. Thank you.
Dear Bestie From Africa: I hope all the follow up appointments go smoothly for your little man. I can't wait to see you again on Saturday for brunch!
Dear MLB Playoffs: Keep it up! No sweeps yet. I love to see all these series going down to the wire.
Dear Mom: Your season in Yellowstone is almost over! Heading back to California next week. I'm looking forward to hanging out with you, watching baseball, going to Disneyland. All our usual October stuff. :-)
Dear Boyfriend:
I'm happy you decided to stay home this weekend instead of going riding. I agree, it is too hot still!
(Plus, I like spending time with you. hehe)
Dear Readers: I have gained a handful of new followers in the last week or so

(to add to the small handful I had)

. Thank you all so much! I love

(and follow back)

each of you. :-)
*******************************************************
And now for my Fancies!
Before this week's topic was available I happened to have created an outfit around these cool metallic jeans I saw on
Polyvore
. With leaves on the background! And here she is with Leaf Love as the topic. I think
Miss AV
is reading my mind...haha :-)
I don't know why I like these jeans so much, I think they just look fun!
Everything else was basically chosen to compliment the jeans. :-P
I do love both of the nail polishes,
I almost always find myself choosing OPI when I get my nails done.
I'm interested to see what other
(more creative! haha)
people are thinking of for this topic.