I've seen this link up around since I started reading a lot of the lifestyle blogs, and finally got my stuff together in time to participate this month. :-)
In particular I've seen it on
Jenna's blog
, so happy to link up with her and the other lovely hosts.
It's just a way to find out a few random facts about each other!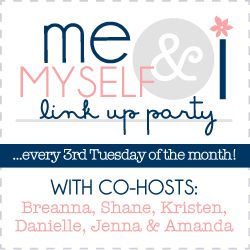 What are your top 5 favorite movies to watch during the Holidays?
My favorite is probably A Christmas Story. "You'll shoot your eye out!"

(My boyfriend hates it.)
The Nightmare Before Christmas is a close second.
I like some of the oldies... Miracle on 34th Street (the original) is a cute one.
I think Elf is hilarious and touching at the same time.
My boyfriend likes Bad Santa, and I admit, it's funny. ;-)
It's the month of giving thanks, what are you most thankful for?
I'm thankful for...Our house, and these crazy dogs who share it with us.
I'm thankful for...

My family and the fun places we go.
And, I'm thankful for this guy...of course. :-)
If there was a quote or verse to describe your life, what would it be?


Who in your family are you most like?
Hmm. That might be something that someone else could answer better, but I think I'm a lot like both of my parents, in different ways. Actually, I think my brother is, too. So maybe my brother! ;-)
What is your favorite drink order at Starbucks?
In "winter" (no such thing here) I love the Pumpkin Spice Lattes, but I do want to try the caramel brulee

latte this year!!

For the other +/- 9 months of the year I almost always order: Venti ICED tuxedo, with 2 pumps dark and 4 pumps white chocolate, and light ice, and no whipped cream. :-)