Hello! I was brainstorming about blog topics and unique things that I could discuss and realized we have some pretty cool home decor, courtesy of my "father-in-law".
Linking up with Sue!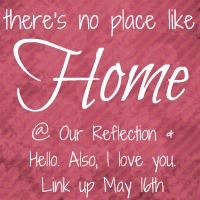 See, my BF's dad is an artist. He does mostly pottery (ceramics to be specific) and he has his Masters degree in fine arts. One of the first things my family ever did with his family was a "firing" of the kilns to bake a bunch of items he had been working on. It was like a bonfire party with artistic purpose. :-) Everyone had a great time.
As might be expected, we have a lot of his pottery in our house. It is pretty much in every room. In fact, now that I look around, we don't have a whole lot of decoration in our house that his Dad didn't make!
So, I thought it would be fun to give people a tour of our pottery collection. Enjoy!
Some Wall Art....
This is in our kitchen area. It's about 15" diameter.
These are sitting on a low buffet table under our kitchen window. We have dinner plates that match the blue flower wall plate.

(The teacup is from my Nana's collection. I pocketed it when she moved and downsized last year.)
Once in a while he strays into new territories....
Kitchen Area and Kitchen Related Items ...
Some of these are used mostly for decoration, but all are100% usable, washable, heat safe, and functional.
Used on the rare occasion that I bake cookies.
These sit on our (rarely used) dining table.
We have approximately...eleventy hundred mugs. :-)

Last year we got smart and asked for some functional items, and boy were we happy when Christmas came around!
These are one of my FAVORITE pieces ever, we got these for Christmas last year.

Great for fondue or any kind of dipping you may require.
I use this weekly!!

Toss 10-15 small red potatoes in with around 3/4 cup (?) water. Microwave for 10 minutes or so. I usually put a little more water in about 5 minutes into the microwaving.
The lid doubles as a shot glass. hehe
So, there you have a sampling of what my house looks like.
As I was snapping pics I realized this would be way too many for one post so part 2 will be coming in the future. :-)