I'm so happy it's Friday I did a couple of link ups today. :-)
I thought this was a good week to join in the fun!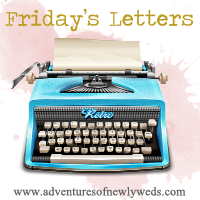 dear Mom - I hope you have a great time working at Yellowstone this summer! I'll miss being able to see you for 5 months but I know it's something you've wanted to do for a long time. I can't believe you are missing (almost) the whole baseball season, though!
dear Juliet - thanks for coming to the Renn Faire with me last weekend. I was very proud of what a brave dog you were. I know there was a lot going on, but thank you for not snapping at the little kids who came up and petted you (right in the face!).
dear Dogs - honestly, you do not need to bark at every single person/dog/cat/leaf that goes past our gate. Only if someone comes up the the gate!
dear Sunshine - please stick around this weekend. It's been sort of hard to tell what your plans are lately.
dear Boyfriend - I love you, man. :-) I know we don't have anything special planned for the weekend but I'm sure we will enjoy some "you and me" time together.
*** *** *** *** *** *** *** *** *** *** *** *** *** *** *** *** *** *** *** *** *** ***
This weeks theme...
All about color, and my #1 favorite is GREEN!!
I love this outfit because
a) it's green
b) it's versatile
c) it's my style
d) it's green