Happy happy happy Friday! Woo hoo!
Can you tell I am glad it's Friday? Yeah, it's been a loooong week.
Cute, huh?!? AV made this for me! :-)
AV posts this topic (Outfit Crush) once a season and it has been easy for me to find something, but hard to actually choose one outfit. I see so many cute Polyvore outfits on Pinterest and I sift through them each time looking for what strikes me as my "favorite". (for that day at least! haha)
Since it's fall, I tried to look for something weather appropriate. But...since it doesn't really get very cold in San Diego I could really go for anything, so I chose this one. :-)
Nothing too heavy, and layers are always good. We don't have much (practical) need for boots either, but I think these are too cute to pass up. Plus, since visiting my Mom in Yellowstone this summer I have been digging the "chic cowgirl" style. I LOVE the boots and the shirt is pretty damn cute, too.
Giddy up, dude...? :-) haha
(That's Cowboy/Surfer speak.)
Yep, my secret outfit crush, revealed!
Cute, stylish, SOME GREEN INCLUDED (
mandatory in my book
) and comfy
(OK, maybe not the boots? but I can pretend)
and perfect for fall in a not too cold part of the world.
* ** *** **** *** ** * ** *** **** *** ** *
Also...I'd like to write a few letters on this lovely Friday...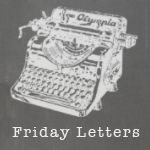 Dear Friday... I love you. It's as simple as that.
Dear Baseball... I am sad that the season is almost over. I only have one game left to attend. :-( But I do love October baseball! Make it a great post season, would ya?
Dear Smoke Detector
(that ran out of juice and BEEEEEEEPED in the middle of the night)
... You suck.
Dear Co-Workers... BBQ/Potluck/End of summer food eating celebration at work today. Yay! That should help the work day go by quickly.
Dear Carmageddon 2.... Please be as "not a big deal" as last time.
Dear Boyfriend... We have no plans yet, but I hope we do something fun together this weekend. A movie? Bowling? Dinner? Somethin!
Dear "Bigger" Blogs I am Sponsoring this Month....
I'm trying to motivate myself and
(hopefully!)
gain some followers in the next month or so, and so far the "
sponsoring experience
" has been relatively painless. Thanks ladies!
(Kristen, Raven, Michelle)
You rock!
Dear Readers... You guys also (obviously!) rock. And are awesome. To the max. :-)