First of all...
HUGE thanks to my blog designer Kristen @ WTF Designs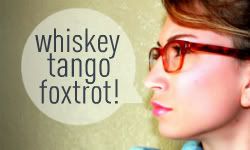 She was great to work with, didn't mind revision after revision after revision

after revision

...
And super fast!!
Like, I contacted her on a Thursday and had my new design up by Tuesday morning. And we are on opposite sides of the world!
Check her out if you want to spruce up your blog.
Here are some more blogs I follow...
(who don't have "buttons" to display on my sidebar!)
The first blog I ever got really into... (yes, I came late to the game). Heather has got to be one of the most relatable writers out there. She's like everyone's virtual BFF.
http://brittanyherself.com/
I don't quite know how to explain my love for this woman. I read everything she posts, and FB stalk her, and I still can't get enough. She is VERY VERY funny, smart, witty, and inspirational. She has 3 adorable kids, and a great husband that hangs on for the ride.
Just pure hilarious awesomeness! I can't even begin to describe it. Just check it out. Jenny is awesome, and Beyonce is my homeboy.
See my sidebar for more of my DAILY READS!!
If I am missing anything fabulous, please

let

me

know

!! :-)